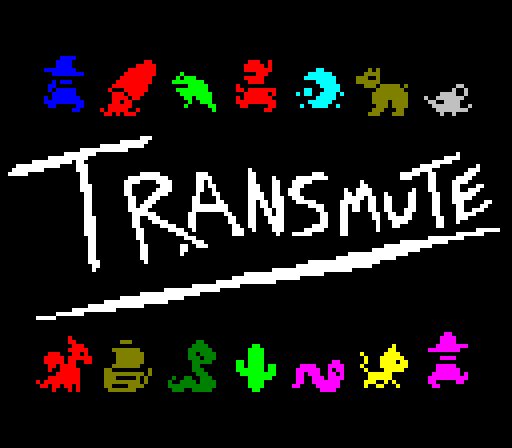 Transmute!
A downloadable game for Windows

Transmute is a small game where you play as a Wizard who can transform objects into other objects to solve puzzles and explore the game's world. Over the course of your travels, your list of available transformations grows, as does your ability to explore further and perhaps even find some secrets!
Controls:
WASD to move
Q & E/Left and Right Arrows to change your currently selected Form
Mouse Wheel/Up and Down Arrows to change your currently selected Spell
SPACEBAR/Left Mouse Button to cast a Spell (if not Transforming) or SPACEBAR to Transform
ESC to pause the game
Note that the game auto-saves whenever you enter a new area or when you solve major puzzles, so you don't have to worry about that!


If you like the game, consider checking out my other ones, or sharing this one with your friends! Additionally, donations are always welcome! I hope you enjoy, and have fun in the world of Transmute! And, if you find yourself stuck at any point, download the PUZZLE HINTS text document for help!


Download
Click download now to get access to the following files:
Comments
Log in with itch.io to leave a comment.
Beautiful little game, I enjoy the few hours I spend on it.
Fantastic game! Very charming :)
Any chance of a Mac version?
I've looked into it, but at the moment running it through wine is probably your best option as I don't have a Mac currently to develop a Mac port on. Maybe in the future though!
This game makes me happy! Thanks for making it!
It had an enjoyable vibe and cool world that sorta reminded me of StarTropics...and some neat puzzles!
I like that you kept it ambiguous what your original form was, it keeps the overall metaphor of the game really strong: You are what you choose to be!
I found 7 gems on my own, so I'm glad I saw the hint.txt to get to the endgame stuff. You really went the extra mile in terms of completeness.
Though if you make a sequel, please make a seperate transmute selection screen! The scrolling was a tiny annoyance, but actually became a mechanic with the 2 duels, becoming like a memory challenge (which was cool but not esp worth the annoyance imo haha).
Keep making games!
Really like the game, can I know in what engine/framework it was build(sorry my english Iam not native
)
The game was put together in Game Maker Studio (the first one)! Pixel art was mostly done in Paint.NET, and music was done with a program called Pulseboy. Hope this helps, and I'm glad you like it!
this is really really cute & fun! i only have two things --
1. when i was doing the duel at the end, I lost a few times because it took me so long to page through the forms that he gave me 3 strikes
2. this one is really embarrassing. somehow i managed to not learn the rock form through the whole game -- mostly because i thought i learned it from the ruby rocks at the very beginning -- so when it came to the end i ... couldn't win. but then i couldn't go back, either! i was trapped at the end without being able to win. so i never actually finished the game, because i didn't want to have to redo the whole darn thing... well, it was fun for the duration, anyway
You don't actually need the rock to win! You just have to make Whirlin turn into a rock (by turning into a Dragon or a Demon when he's a Dragon), so don't give up just yet! And thank you, I really appreciate the compliments!!

I'm also running into the "lose the duel because the menu takes too long" problem. Any chance that either the duel could become not timed, or a faster interface for forms that lets you see all of them at once could be implemented?
I could add an updated version with a longer timer, which would probably help somewhat. I'll also look into the faster forms interface too, since its' a complaint I've been seeing a lot, but I can't promise much on that front.
UPDATE: I've added a new version of the game with some fixes that should hopefully help fix your problems!